15 May

Lullaboo's 2017 SickKids Foundation Campaign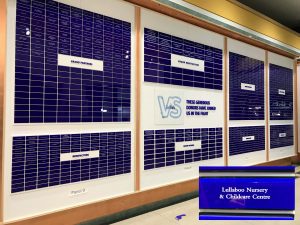 To all of our friends and family here at Lullaboo: it's that time of year again!
For the fourth straight year, Lullaboo is running a BBQ season, to help support SickKids!  Each of our centers will have an event this month, dedicated to raising money for this worthy cause.  In the psat, we've raised over $50,000 with the help and generosity of our community, all of which has been donated to the SickKids Foundation.  This year, we are again asking all of our partners, vendors, friends and co-workers to take part in our campaign.
Throughout the month of May, all of the children get involved and excited.  They wear blue each and every Friday to raise awareness, and help work with their families to contribute any way they can.  Our staff puts in extra time off the clock, helping to plan the BBQs, raffles and programs at each center.  It's a true team effort; everyone pitches in to help make everything work.
This year, Lullaboo is asking everyone to get involved.  We pledge 100% of all registration fees collected from parents during May to the SickKids Foundation.  Please join us by providing a one-time donation, prizes for our raffles or food and supplies for our BBQs.
Our 2017 goal is $25,000.  Please help us make this dream a reality, helping us support the children at SickKids in their journey to healthiness.
For questions or more information, you can contact Halim Mikhael ([email protected]) or either of the lead teachers on this campaign: Ms. Christine ([email protected]) or Ms. Alyssa ([email protected]).
This video helps explain what SickKids does, and how it fights the greatest challenge in child's health.
We've attached a letter of endorsement from SickKids Foundations, as well as a credit card authorization form for your convenience.  Cheques can be mailed to or dropped off at any of our locations.
We have an event and BBQ at every campus!
| | |
| --- | --- |
| Friday May 12: | Maple Campus |
| | 1410 Major Mackenzie, Vaughan |
| Friday May 19: | Churchill Campus |
| | 8015 Financial Drive, Brampton |
| Friday May 26: | Mississauga Campus |
| | 5329 Ninth Line, Mississauga |
| Friday June 2: | Queen Campus |
| | 1450 Queen Street W, Brampton |
| Friday June 9: | Elgin Mills Campus (Rain Date after May 5 postponement) |
| | 180 Elgin Mills Rd W, Richmond Hill |
Thank you so much for your time.  Anything you can do to help us and the SickKids Foundation help improve the health of children.