18 Nov

Compassionate Books for Young Readers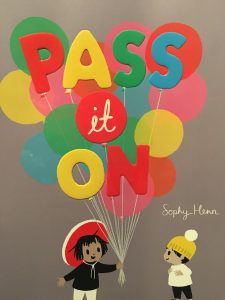 One of the most important things books do for children is help them establish the way they interact with the world.  It reinforces behaviors, morals and guides for interacting with the world around them, teaching them things like kindness, empathy and compassion through stories and examples.  In all honesty, they can be a great antidote to the depressing world that we sometimes find ourselves living in – uplifting messages that show that people can be good, and how we should treat people we meet.  Here are some of our favorite books to teach compassion and kindness to young readers:
Pass It On is an ode to sharing happiness with others.  It talks about the power that positive emotion can have, allowing you to connect with the people around you.  It's a celebratory, feel-good story about kindness begetting kindness, written in simple enough terms that even very young readers will be able to follow.  It's bright, colorful illustrations help back up that positive feeling.  It's a great read, showing how fun and wonderful sharing can be.
One (Kathryn Otoshi)
Bullying can be a tough subject to deal with, especially as your children enter preschool and kindergarten and interact with a wider range of people; people you can't always control.  There have been many books trying to deal with the topic, but we really like One for it's abstract take on the subject.  Rather than creating a situation and projecting it onto characters, One is about the colors of the rainbow eventually learning to work together to stand up to negativity, intimidation and bullying.  It has a great mix of positive messages, with both standing up for oneself and forgiving others being prominently highlighted.
This is pretty much the canonical example of a book about generosity and unselfishness; the best example that's stood the test of time.  For more than 50 years, kids have been learning about giving and love through Silversteen's classic.  We can't recommend it highly enough.