24 Dec

Five Educational Apps for Toddlers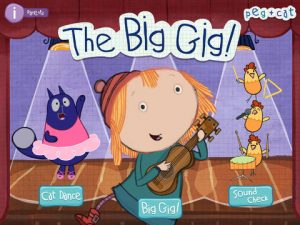 The 21st century has brought with it great technology and gadgets.  Killing time with an app on your phone or tablet can be great fun, but it's also a great opportunity to encourage growth and learning in your toddler.
There's a wide range of educational apps available for toddlers, designed to help stimulate their minds and help them develop key skills.  If your child is a little tech head in training, here are five apps that will keep them playing and learning.
Peg + Cat Big Gig is a musical app, allowing your child to pick an instrument and play along with Peg, Cat and their friends from the popular TV show.  The app allows your child to dance and sing along to easy math exercises – counting up and down and basic addition.  It'll help your child learn to count, identify numbers and repeat patterns, all while enjoying the music.
Alphabet Flashcards is exactly what is says on the tin – interactive flashcards designed to help your child learn their ABCs.  When they tap on a card, it will reveal one of over 100 pictures of a word beginning with that letter.  It also allows children to listen to the sound of the letter, to better accelerate their learning.  The cards can be read in alphabetical order, or randomly to help keep your child on their toes!
Preschool Adventure features 18 fun games to keep your child entertained and learning.  It's a great collection of minigames to help teach your toddler shapes, colors and other basics.  From ABC Invasion to Pinball 123, Claw-Crane Matching to Whack-A-Mole Colors, there's always something new to explore.  There's a good variety of games as well, which is helpful if your child tends to get bored and move on to other things quickly.
Monkey Preschool Lunchbox sees your child helping Monkey pack a healthy lunch through a variety of fun minigames.  It introduces letters, shapes, patterns and colors, asking your child to solve puzzles and match pictures in order to give Monkey what he wants.  It's also got a great user interface – no menus or navigation to worry about; it's very easy for a toddler to pick up and play.
The Monster at the End of This Book is one of the all-time toddler classics, and it's been updated and brought into the 21st century with this interactive version.  As Grover desperately tries to keep your child from encountering the monster, he'll have them untie ropes, knock down brick walls, and tickle him, all interactively.  The book has been a classic way to learn about emotions and overcome fears since it was first published in 1971, and this app continues that legacy with a fun, interactive twist.