24 Dec

Things to Look For When Selecting a Daycare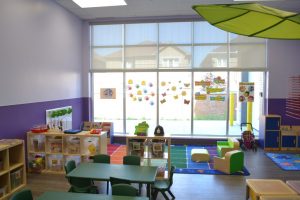 Picking a daycare for your child is a very important decision to make, and not one that should be rushed into lightly.  You want make sure you're choosing the absolute best environment for your child; one in which they can grow and thrive.   You'll want to spend a solid six months searching for the best childcare available; the best locations often are very busy and difficult to get into.
But what are you looking for in your search?  Spending the time looking for a daycare centre isn't useful if you don't know what you're looking for.  Here are some important factors to keep in mind:
Look for a good reputation. If you can't find any other parents who are willing to say good things about the daycare, that should raise warning flags.  Ask the centre for references, or talk to parents at pickup time, to make sure that their current parents are happy with the care their children are getting.
Ask about the curriculum. You don't want a daycare to just sit your child in front of the television all day.  You want a solidly constructed curriculum that will both stimulate your child's development and provide fun and entertainment.  You're looking for a structured schedule that includes physical activity, quiet time, both group and individual activities, meals, snacks and free time, all at age-appropriate levels.
Check out their menu, looking for healthy food. If they provide snacks and meals, make sure they're serving a healthy, balanced diet, and not just hamburgers and chicken nuggets every day.  If your child has any allergies, make sure the daycare has a plan for dealing with them.  You're looking for a solid set of nutritious food choices.
Ask to see the centre's license and credentials. A license guarantees a certain base standard of quality; while it isn't a guarantee of quality care, its absence is a very, very bad sign.  Daycares in Ontario are required to be licensed by the Ministry of Education.
Finally, the most important aspect is the staff. You're both looking for quality and quantity here.  You want the staff to interact with the children well, responsibly and enthusiastically.  They should be well-prepared, both for everyday care and for emergencies.  There also should be a significant number of them; while the ideal ratio of children to caregivers varies with age, you want it to be as low as possible.  The more caregivers there are, the more individual attention your child will get.
Let these factors guide you, and I'm sure you'll find a daycare that will be a perfect fit for your child.