31 Aug

Lullaboo Named SickKids Donor of the Week

Lullaboo is proud and honoured to be named Donor of the Week by the SickKids Foundation.

For the past seven years, we've been partnering with SickKids, helping them raise funds on behalf of The Hospital for Sick Children. Recently, we've surpassed our $50,000 giving milestone. So happy to be helping such a worthwhile cause.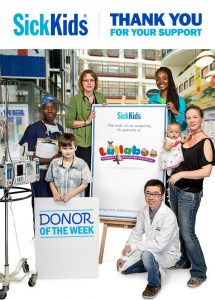 SickKids' mission is to inspire communities to invest in health and scientific advances to improve the lives of children and their families both in Canada and around the world. The idea that all children have the right to high-quality care is fundamental to us as well. That's why we've made it such a priority to work with them to help them achieve their goals.
We want to help the growth and development of children throughout our community.
In order to reach their full potential, children need quality care and education in a safe, healthy and nurturing environment. At our nurseries and childcare centres, we take pride in the environment we provide.  Creating stimulating environments for children t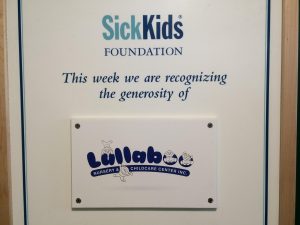 o help them grow and develop. We recognize that it really does take a village to ensure children reach their full level of development. We are proud to partner with SickKids to ensure that all our children in our community have the best facilities and get the best care possible.
To all of our friends and family, we encourage you to consider donating to SickKids.  Improving the health and well-being of our children is one of the most powerful tools we have to improve our society. Through our donations, we can help improve the quality of health care our children will receive. Developing new techniques and methods that can help save lives and generally improve the quality of life for any child who goes through their doors.