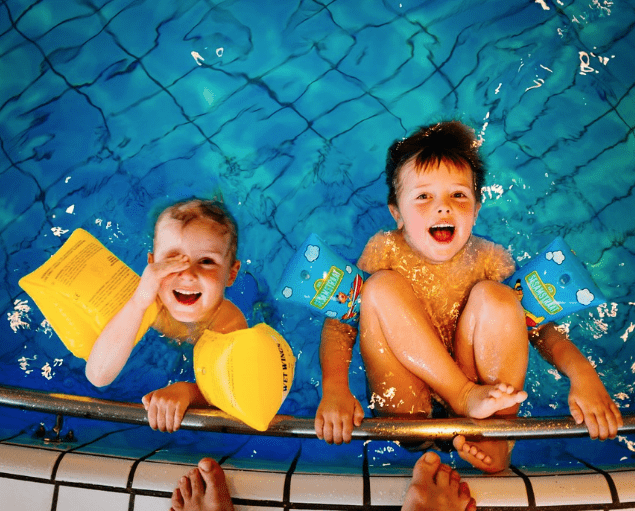 15 May

Top 5 Pool Safety Tips for Toddlers

Summer is bursting around the corner! Time for beach and pool fun. Read these swimming pool safety guidelines to make your pool safe this year.
Watch Your Child at All Times
Whether your children are playing in your swimming pool or you are at a public pool, be sure to keep an eye on your child at all times. Accidents often occur when parents lose sight of their child for a few moments. Follow these simple pool safety guidelines:
Designate someone to watch each child at all times
Dress your child in bright clothing
Don't count on siblings to watch younger siblings
Choose public pools with lifeguards on duty
Stay close to your toddler
Fencing
Pool fencing should be at least four feet high on four sides of the pool. Fencing is needed for hot tubs, too. Check your fence regularly for holes and weak areas. Make sure the latches are childproof. The latch should be beyond a toddler's reach. Avoid propping open the gate. Add extra protection by installing an alarm on any gates, doors, pet doors, or windows that lead to the pool area. Floating alarms for pools will alert you each time someone enters the pool.
Cover the Pool
Always cover the pool when it is not in use. Besides keeping pool water cleaner from debris and wandering animals, the cover will provide a little more protection if your little one ends up near. Secure the pool cover. Remove any ladders and steps to above-ground pools when they are not in use.
Pick Up Toys
Pick up all toys around and in the pool. Avoid using filters and chemical dispensers that look like toys. Children might try to reach the floating toys or trip on toys around the water.
Be Prepared for Emergencies
Take CPR classes. Have a phone ready to call emergency services. Other helpful rescue tools like a shepherd's hook and life preserver can save a life.
Enjoy the pool with your toddlers this summer. Follow these simple safety tips for a fun and safe season.